Leading software company throws the spotlight on design solutions Memento and Fusion 360 as strategic tools to help nurture and enhance student creativity
Dubai, UAE, March 3rd, 2016 –
Autodesk, a leading design software company that is playing a very innovative role in the education sector, globally and in the Middle East region, has expressed its eagerness to help empower students in bringing their creative ideas to life.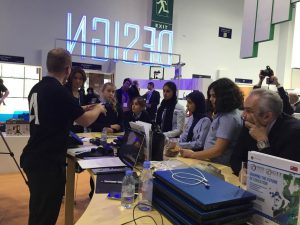 The statement came during the company's participation at Global Educational Supplies and Solutions Dubai 2016 (GESS Dubai 2016), the region's only event dedicated to the entire spectrum of educational supplies and solutions, which opened last March 1, 2016 and will run until March 3, 2016 at the Dubai World Trade Centre (DWTC). The company has revealed that 3D technology has now become a more common part of today's classrooms, which has resulted in the discovery that students are making significant contributions to the world around them at young ages. Looking to further nurture their creative talents, Autodesk will be holding specialized workshops for students visiting GESS Dubai 2016—throwing the spotlight on its key design solutions Memento and Fusion 360.
During the show, the company will be leveraging Fusion 360 and Memento as the perfect complement in further encouraging and developing the design skills of today's students. These powerful and easy-to-use solutions converts photos and laser scans into 3D meshes that can be cleaned up, transformed and 3D printed so that anyone, even the young, can explore captured objects from across the world.  In the US, students as young as 13 years old have used Fusion 360 to conceptualize and 3D print prosthetic devices to college teams developing environmentally sustainable homes using BIM 360 Glue. Young talents are pushing the boundaries of design and innovation both inside and outside of the classroom using the same design software used by professionals every day. With Autodesk's education business model, there is now more than 680 million students and educators from over 800,000 secondary and post-secondary schools in 188 countries taking advantage of free access to Autodesk's professional software and services for use in classrooms, labs and at home. The company has affirmed its continued commitment in investing in the next generation—offering free access to Autodesk software to students, educators, and academic institutions worldwide.
Autodesk continues to provide free access to industry-standard professional 3D design software and learning content to students, educators and schools worldwide. The move demonstrates the company's commitment towards providing today's youth with the necessary tools and resources needed in helping them achieve success in their academic and future careers. Autodesk originally offered free software to college students but has now also started to provide it free to middle school and high school students in the UAE. To ensure wider reach, the company maintains active collaborations with ADVETI Institutes, Secondary Technical School (STS) and many universities. In fact, the success of this initiative can be seen in Autodesk's move to empower 16-year-old Emirati girl students to design next generation mini-F1 cars.