DSO
based
IIS third and
fourth grade students
learn
about environment sustainability
Dubai, UAE – 04 April
, 2016 –
Dubai Silicon Oasis Authority (DSOA),
the regulatory body for Dubai Silicon Oasis (DSO),
the integrated free zone technology park, in partnership with Imdaad, a leading provider of integrated facilities, environment, and energy management solutions in the GCC
region
,
recently
hosted the
'
Be'ati School
Programme
at the
DSO based
Indian International School
(IIS).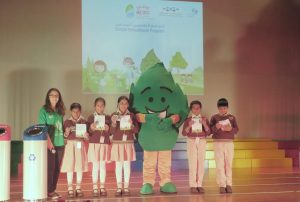 Be'ati, which means 'My Environment,' is Imdaad's flagship corporate social responsibility initiative that was rolled out in 2009. Since then, the programme has been visiting schools in the UAE to host quizzes, short films and competitions for raising awareness on the significance of a sustainable environment. As part of the initiative, concepts such as waste segregation at source, recycling, reducing carbon emissions, and preserving natural resources to make the earth a clean and green planet are given particular emphasis.
Imdaad
has set a target of educating and transforming more than 30,000 school children into active partners of environment preservation for the benefit of future generations.
The latest edition of the green campaign was
conducted
in two sessions and included tailor-made fun activities for more than 500
students
from Grades 3 and 4
of the Indian International School
. Through interactive presentations, Imdaad and DSOA illustrated the
benefits of environment-friendly practices and a green lifestyle
.
Khaddour, the fun-loving leaf character and the mascot of
Be'ati
was also present to encourage and motivate
the children
to adopt
eco
-friendly
ways
including recycling
as a
daily
practice.
Commenting on this initiative, Eng. Khalil Shalan, Senior Vice President – Operations & Facilities at Dubai Silicon Oasis Authority, said:
"We congratulate Imdaad for
organizing the fun and educational
sessions at the Indian International School
that underlined
the importance of
maintaining
a green
and
clean
environment. DSOA strongly supports eco-initiatives in line with its CSR strategy that is based on three comprehensive pillars – the environment, human capital, and community. As part of this priority, we are committed to supporting entities
such as
Imdaad to increase young people's awareness of environmental and sustainability practices. We are confident that such inspiring initiatives
will
help children assume ownership of
preserving
the
natural resources
within
their
communities,
and
eventually take on more vital roles
as responsible citizens
."
Jamal Abdullah Lootah, CEO, Imdaad, said: "As a leading entity for
the
management of facilities, environment and energy, Imdaad considers it a personal responsibility to launch environmental initiatives. The Be'ati School Programme is our flagship campaign that teaches school children about the importance of environmental sustainability. We extend our gratitude to DSOA for partnering with us in organizing this outreach campaign at the Indian International School. We also commend the school's management for supporting our cause and enabling us to relay the
public welfare
message to their students.
The sessions gave us an
opportunity to interact with the
young
leaders of tomorrow
. Their enthusiasm clearly indicated their resolve to play
valuable
and participatory roles in
preserving
our precious
environment."
Imdaad, a multi-awarded, fully integrated facilities, environment, and energy management solutions company in the GCC, is owned by the Investment Corporation of Dubai, the investment arm of the Government of Dubai.  It provides turnkey solutions under Hard and Soft Facilities Management (FM), Waste and Environment, Power and Energy portfolios and is recognised in the market for its innovative, professional, and quality-driven services. Imdaad also offers 24X7 home maintenance service under its HomePro portfolio. The company has received several prominent industry awards and recognitions, including 'Green Facility Management Organization of the Year' at the 2015 Emirates Green Building Council (EGBC) Awards and the 'Sheikh Khalifa Excellence Award (SKEA), among others. Corporate social responsibility (CSR) is a core value for Imdaad and its community-focused programs such as Be'ati (My Environment) – a flagship CSR initiative and Khaddour – the fun-loving green leaf character, reinforces its strong commitment to environmental sustainability.